One of our aims in ADDRESS-2 is to make more people aware of opportunities to take part in clinical research in type 1 diabetes, regardless of where in the country that research is being conducted.
We are helping to put our participants in touch with researchers running clinical trials and other research studies.
---
 How it worked for one of our participants:
Andrew Kennedy was diagnosed with type 1 diabetes and shortly afterwards heard an advert on the radio about type 1 diabetes research in the north of England. He was put in touch with The Royal Liverpool University Hospital, was introduced to ADDRESS-2 and joined. Through ADDRESS-2, Andrew was contacted with information about the MonoPepT1De trial running in Cardiff, which was investigating a therapy aimed at halting the damage to the pancreas in people with type 1 diabetes. He chose to go to Cardiff for the screening tests. He subsequently found out that he wasn't eligible, but this hasn't deterred him from wanting to hear more about other studies.
"For me, being involved in something like this was a big positive. If I'm going to have this illness, and if I can be involved in something that might help do something towards it, then that for me is a big positive. I was like, sign me up."

"I'd certainly recommend someone else who has been recently diagnosed to join ADDRESS-2. Type 1 diabetes is not fully understood and the more people you can add to the research the better; the more chance there is of finding out what causes it, what triggers it, how do we fix it and can we predict it. I would never have found out about the Cardiff trial if I hadn't joined ADDRESS-2."
Andrew Kennedy
Read about the studies we are supporting
---
Agreeing to be contacted is part of joining ADDRESS-2
In ADDRESS-2, we recruit children and adults newly diagnosed with type 1 diabetes to learn more about the characteristics of the condition at onset. Since 2011 we have been building a country-wide database of people with new-onset type 1 diabetes and their siblings.
Our participants have also agreed to be contacted about other type 1 diabetes research for which they might be eligible and we are contacting them to let them know about opportunities to take part in clinical trials and other research studies in type 1 diabetes.
We refer interested participants onto the individual study team to find out more about each study. We stress that the decision to find out more or to join another study is up to them – they are free to say 'yes' or 'no' and to change their mind.
Sometimes studies are running close to where participants live and sometimes the research is being run in a different part of the country.
---
ADDRESS-2 has helped to identify new regional trial centres
When the ADDRESS-2 team at the Countess of Chester Hospital heard that the MonoPepT1De trial would be offered to ADDRESS-2 participants, the local investigator, Dr Frank Joseph was so enthusiastic about the study that he made contact with the MonoPepT1De Chief investigator, Prof Colin Dayan to pledge support. This led to a relationship being established and Chester becoming a research site for MonoPepT1De, giving people in the North West the opportunity to join the trial at at a site in their region.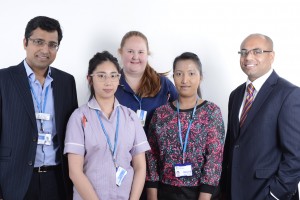 "We have got to get out of our comfort zone and start thinking about solutions that will change the future care of our patients. My reaction on receiving information about the MonoPepT1De study was 'I wish we could be a part of that' because it was cutting-edge research. I picked up the phone to the Chief Investigator, a complete stranger to me, to tell him I was pleased to hear about the work he was doing and that our team would be ready to support it at some point in the future."
Dr Frank Joseph, Countess of Chester NHS Foundation Trust
Consultant Physician in Endocrinology and Diabetes
---
Read about ADDRESS-2 on the National Institute for Health Research website.